Like many of you, my wife and I participate in a Flexible Spending Account (FSA) for health care expenses. It allows us to pay for prescriptions, office visits, and eye care with pre-tax money.
That's the good news. Unfortunately, our FSA provider seems to be located somewhere in the 1990s. We don't get one of those handy FSA debit cards, nor can we submit expenses online. The only concessions to modern times: they provide the reimbursement form as a PDF, and they accept submissions via email.
Some PDFs, such as the ones you download from the IRS, have text fields that let you type directly on the form. Our FSA form isn't like that—it's just a printable page of text.
Well, I get PDF forms all the time, and I'm not going to let some dumb computer tell me what I can and can't type on. I don't want to have to be near a printer, and I don't want to fumble with envelopes and stamps. Plus, I'd like a copy of the completed form and a record (albeit unofficial) of when I sent it by email. Above all, I just want to get my paperwork done as quickly as possible, no matter where I am.
So I went looking for apps to let you fill out any PDF, including adding a handwritten signature, and avoid scanning, printing, and snail mail. I found great free programs for Mac and PC, a $10 iPad app, and a Flash-based website that can be used on any computer (as long as you have Flash installed) but costs a few bucks a month.
Filling it on the Mac
Since OS X Lion (10.7), the Mac's built-in Preview application lets you mark up PDFs, including storing and pasting handwritten signatures. To get started, load your PDFand click the pencil icon in the toolbar:

The only two tools you'll need are the ones I circled: the Text tool and the Signature tool.
To enter text on a PDF, just click the Text tool button and then click where you want to type. After you finish typing, you can move your text, in case it's not quite in the right place.
To get your signature into the computer, you'll use your built-in FaceTime camera. Sign a blank index card or sheet of white paper, click the Signature tool, hold it up to the camera, and it'll magically slurp your signature into the computer.
Kicking it Windows-style
I tried several free PDF apps for Windows, and my favorite is PDF-XChange Viewer. Despite the name, it's not just a viewer: it also lets you type on PDFs using the Typewriter tool under the Tools menu.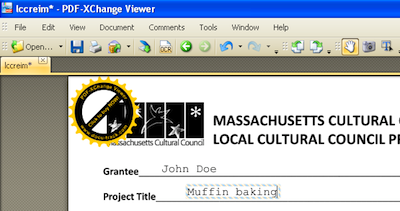 It took me a little while to figure out how to paste a signature using PDF X-Change. Ignore any feature that says "signature"—that's for cryptographic digital signatures (don't ask). Instead, use the Stamp library, also found under the Tools menu. Using this tool, you can add any graphic, including your handwritten signature, and stick it all over your PDF. (You can also add official-looking rubber stamp marks, like IMPORTANT or FIND HIM AND KILL HIM.)
How do you get your handwritten signature into the computer? The easiest way is to sign a piece of paper, shoot a picture with your phone, and email yourself the photo.
For the iPad
A new app, PDFpen for iPad ($10), lets you fill out, sign, and email PDFs directly from your iPad. You can even sign with the tip of your finger.
Get it done in a flash
The most convenient way to fill PDFs is online—but it's not free. PDF Filler is designed to do exactly what it says on the label. You can load up any PDF from your computer or directly from a web site, type all over it, and add your signature by writing it with your mouse or trackpad, or by shooting a picture of it with a phone camera and uploading it.
You can try PDF Filler for free, but to download, email, print, or even fax a PDF(which is presumably the whole point), it'll run you $10/month or $30/year.
Point and shoot
Speaking of your smartphone camera, it's a handy way to turn a paper form into aPDF. Using a scanner app like JotNot Scanner Pro (iPhone, $1) or CamScanner (Android, $5), shoot a picture of the document, and the app will make a crisp black-and-white version, ready to email to yourself as a PDF or send to Dropbox.
In short: no matter what platform you use, you don't have to deal with 20th century methods of filling out forms. I've been doing all my forms electronically for over a year now, and it takes a lot of the dread out of doing the paperwork that modern life can't seem to shake.