Take a bite out of
your bills
Let our partner, Billshark, save you hundreds of dollars
in just minutes1 through our new feature: Bill Negotiation.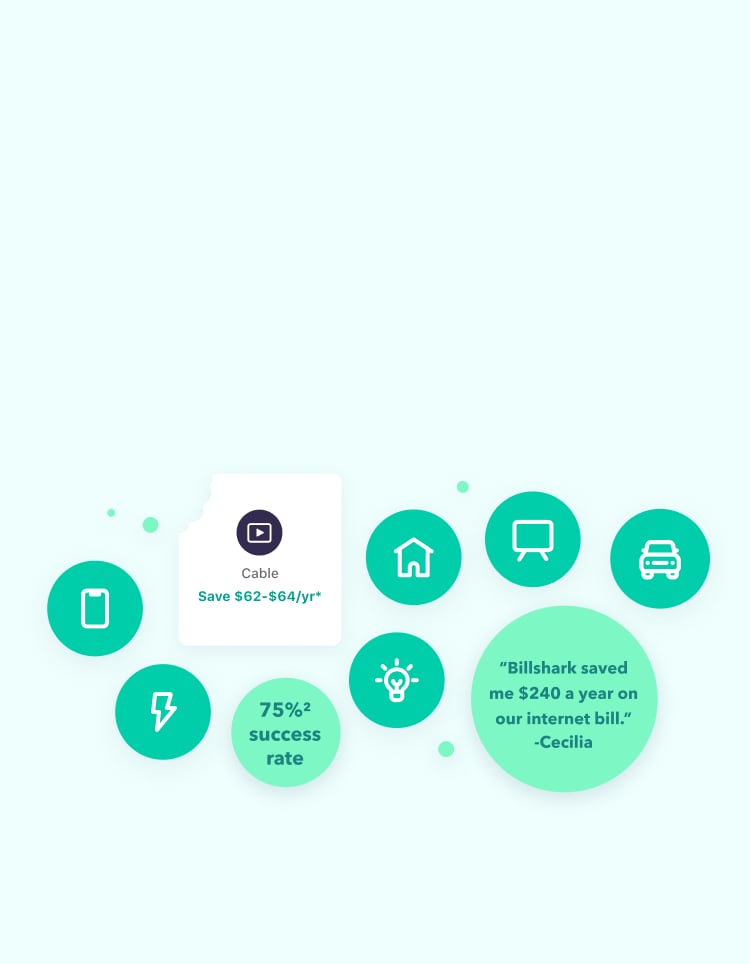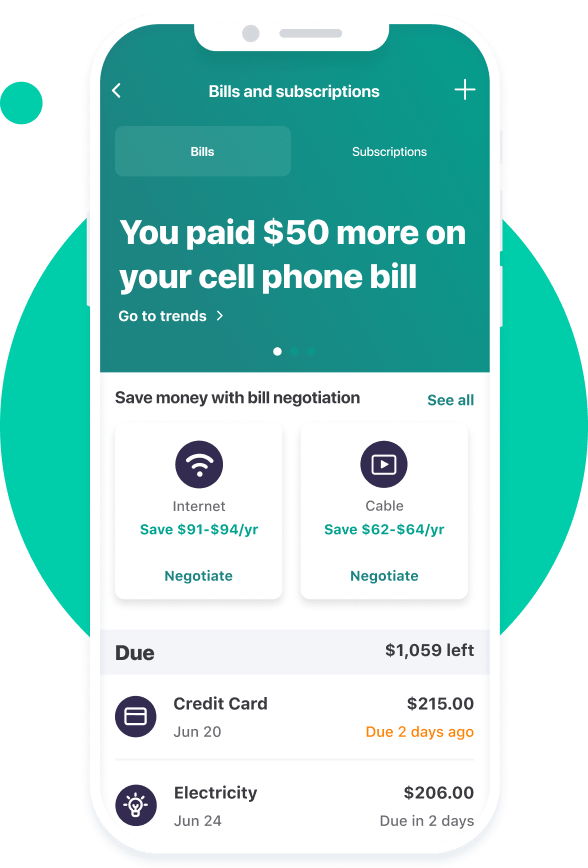 Get overpaying under control
Most people pay too much in monthly bills. We'll help you be someone who doesn't.
All of the haggle.
None of the hassle.
Let Billshark do the talking. They'll negotiate for you and if they don't save you money, you won't give them a thing.
How it works
Send in the shark

Sign up then sit back while Billshark does the hard work for you.

Save some cash

With a success rate of 75%2, you can be pretty sure you'll save some money.

Split the savings

Only if Billshark succeeds, you'll give them a cut of your savings for up to 24 months.
Frequently asked questions
How does Billshark negotiate bills?
Billshark will contact a provider on the user's behalf to negotiate their bill down, saving users a lot of time on the phone.
What do bill negotiations cost?
First, Billshark only charges for negotiations that are successful. For successful negotiations, users are charged 40% of the savings on that provider for the service period, up to 24 months. If savings last longer than that, there is no additional charge.

Example:

Old bill: $70 per month
New bill: $60 per month
Monthly savings: $10 per month
Savings over 24 months: $240

Billsharks share: $96 (40% of 24 month savings)

Mint also receives a fee from Billshark.*
When are users charged?
Shortly after a bill negotiation is complete, Billshark will send you an invoice for the negotiation fee. This typically takes around 3 days, with payment due about 5 days after that.

You'll have a chance to change your payment method, or you can just use the card you provided when you requested the negotiation. If you use the same card, Billshark will charge you for the negotiation fee upfront on the invoice due date. The invoice will also give you the option to set up a payment plan if that is preferred (please note that there is a one-time charge of $9 to set up a payment plan).
What bills are negotiable?
Billshark is able to negotiate many bills (currently 34 providers), mostly internet, phone and cable services. Billshark does not negotiate utilities, insurance, credit card or medical bills at this time. For a current list of negotiable bills see the bottom of this page. If a user is unable to find one of their bills in the carousel on the Bills page, they can select "see all" to search a comprehensive list of negotiable bills.
Why does Billshark need personal details?
Billshark asks for the minimum amount of information required by the service provider in order to complete a negotiation (which may be different, based on the service). The information that Billshark requests is used to verify the user's account with the provider, solely for the purposes of the negotiation. Billshark will delete personal information when it is no longer needed for this purpose. Information you choose to share with Mint or Billshark will be handled securely and in accordance with each company's privacy statements.
Which providers does BillShark negotiate with?
Negotiable services

ADT
AT&T Wireless
AT&T Wireline
Atlantic Broadband
Bright House Networks
Cable One
CenturyLink
Charter
Charter Spectrum
Comcast
Comcast (Xfinity)
Cox
DirecTV
Dish
Frontier Communications
Grande Communications
HughesNet
Mediacom
Optimum
RCN
Rise Broadband
SiriusXM
Sprint
Suddenlink Communications
T-Mobile
Terminix
Time Warner Cable
U.S. Cellular
Verizon
Verizon Wireless
Vivint
Wave Broadband
Windstream
Wow